Sitter tillrätta i loungen på Kinas transfer just nu och inväntar planet som ska ta oss hem. Blir väl sittande här tills vi ska boarda om fem timmar.
Det är så fruktansvärt kallt, speciellt när man kommer direkt ifrån Thailand. Dessutom så är det fuktigt så kylan letar sig liksom in på ett sådär obehagligt klibbigt sätt. Höll allvarligt på att frysa ihjäl sist jag reste på samma sätt med mellanlandning i Kina för snart ett år sedan. Lärde av mina misstag så har i alla fall med mig en jacka och snodde med mig filten som man fick på resan hit.
Inte hunnit blogga någonting förrän nu. Fullt upp hela tiden från när vi kom till Bangkok fram tills nu, och det kan jag säga utan att överdriva.
Kortfattat så blev det lite last days shopping, träffade upp vänner och firade min födelsedag. Hade två möten, ett inplanterat och ett spontant. Kommer förmodligen behöva resa tillbaka till Thailand snart igen inom ett par månader. Min mor tippade på mars redan. Kommer verkligen att vara uppbokad det kommande året.
Nu är man 22år. Känns avlägset och konstigt. Kommer alltid att vara en Peter Pan. Jag vill kalla mig tidlös, men folk skulle nog enkelt och oglamoröst säga att jag är en typisk sådan jobbig jävel som vägrar växa upp.
Vet inte vad det innebär att växa upp egentligen. Jag trodde att det handlade om ansvar, men tydligen så har det även att göra med utseende och intressen.
I så fall så är jag forever young. Tänker aldrig låtsas uppskatta någonting för att framstå som representabel inför någon annan. Deras ideal klär mig varken ytligt eller mentalt.
Och tur är väl det! Fan vad världen skulle vara tråkig utan galningar som jag 😉
För er som inte vet så får man gratis allt i loungen på flygplatser. Gick och plockade åt mig en improviserad frukost bestående av några olika kakor, en yoghurt och vatten till det. Inte någon femstjärnig måltid precis, men duger utmärkt åt mig!
Åt mat på planet hit så är inte speciellt hungrig för tillfället. Är ju kvar här ett bra tag till så får äta bättre senare.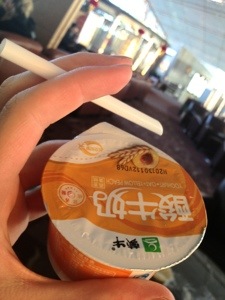 Nej Kina, man äter inte yoghurt med sugrör.
Nu tänker jag fan gå och lägga mig i ett av rummen här och sova. Min plan va först att hålla mig vaken fram till avresa för att kunna sova på planet istället. Skulle vara så skönt att sova bort resan, men jag håller på att däcka.
Hörs hemma i Sverige igen!
Ps. Höll på att glömma att förklara mitt val av rubrik!
Här på Kinas flygplats så står det inte "Check your belongings before leaving the toilet" eller någonting liknande för att man inte ska glömma saker. Istället så står det "Please lock the door for your own convenience."
Ska försöka minnas att ta en bild senare och visa. Tycker att det är så himla charmigt!